The rise of first-party data: User loyalty strategies to win our cookieless future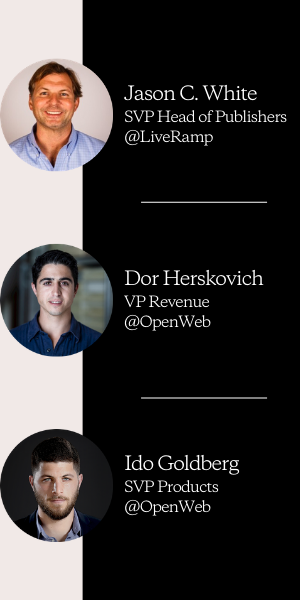 Thank you for your interest in our upcoming webinar, "The Rise of First-Party Data: User Loyalty Strategies to Win Our Cookieless Future". Our webinar will be postponed from July 20th at 1pm ET until further notice.

While the end of the third-party cookie era may seem alarming, it's an incredible opportunity for publishers to create stronger audience relationships and strengthen first-party data strategies to future-proof their business.

That means publishers today need to build a strong 1:1 relationship with their readers–and quickly. That relationship with users drives loyalty, registrations, and a Publisher's ability to monetize content.

Join LiveRamp and OpenWeb in this 45-minute webinar to learn more about:


Strategies for converting visitors to registered and repeat readers,

Creating valuable first-party datasets in a privacy compliant manner,

Ways to activate and drive sustainable revenue through 1P data.

Navigate this changing digital advertising landscape like a pro with actionable insights, trends and practical next steps.
Date: To Be Determined
Register below to reserve your space today.